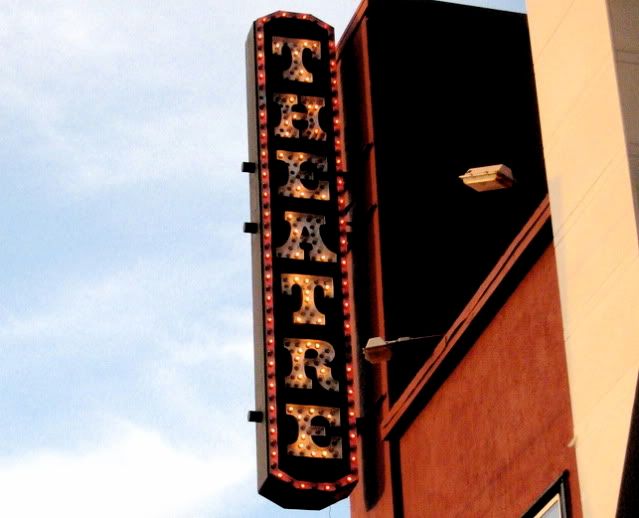 Well, it didn't go away until I got back to Wisconsin yesterday. But L.A. was sun, fun, and music. I
could
wait for the superior, nuanced show reviews sure to come from Uyen and then simply
link them here
. Don't worry, I'll do that too. (See?)
Saturday night:
Evonne, Heidi, Paul, Uyen and I brought a picnic dinner to the Hollywood Forever Cemetery, where
Paper Moon
was being screened. As Heidi pointed out, you don't often get the opportunity to say things like: "I think I see our friends over by that crypt." Nor do you often get to see
Paper Moon
introduced by Tatum O'Neal herself. But that's Los Angeles, folks.
The movie was finished by 10:30 p.m. Time to go back to the hotel? Of course not. Time to head over to the Steve Allen Theater for the Tomorrow Show, celebrating its 4th anniversary. The show started at midnight, and didn't get out until ten minutes to 4:00. That's 4:00 a.m. It felt like a microcosm of the 24-hour Second City benefits: nonstop comedy, variety and music. We saw a magician, a man twirling a cheeseburger on an umbrella, a standup act that introduced our new favorite catch phrase of the trip ("Wake up! You fat. We talk later"), and two songs by Jon Brion. We'd be seeing a bit more of Jon over the next few days. Some of my friends attended his Friday night show at Largo, setting up a rare JB quinfecta. I had to settle for the quadfecta myself. Quite a first night on the west coast.
Sunday:
Brunch at Hugo's, the ocean (Zuma Beach) and then on to the Coronet for the 7 Worlds Collide 2 show. I thought I'd never get to see one of these - the previous four had been in Auckland and London - so when one fell into my lap in L.A. I was thrilled. The California cast of musicians included Neil and Elroy Finn, Lisa Germano, KT Tunstall, Bic Runga, and Jon Brion. Together they romped through a nice selection of songs from the upcoming 7WC2 album, and didn't limit themselves to songs written by those present. The free-for-all fun vibe of this show made me wish even more I could see the full 7WC2 lineup in concert. That's not to say that I felt this show suffered from not having the entire ensemble present. Rather, I can only imagine how mad it would be to see them all together at once. My favorite part of the night came near the end, during a Lisa Germano piano number. Jon, KT and Elroy were at loose ends standing near the back before the song began, nursing bottles of Red Stripe. Then - Elroy may have been the instigator - someone blew experimentally across the top of a bottle. Neil essentially commanded them to take "that shit" to a microphone, and before we knew it there was a three-person bottle choir standing before us. Jon's producer instincts kicked in and he took a turn at directing KT and Elroy when Lisa called for a bottle solo.
Sunday's setlist
(all setlists courtesy of Uyen)
--Hazel Black
--Red Wine Bottle
--The Ties That Bind Us
--Little by Little
--Girl Make Your Own Mind Up
--A Change of Heart
--Black Silk Ribbon
--The Cobbler
--Too Blue
--All Comedians Suffer
--Reptile
encore
--Margaret Trudeau song
--Jean Genie/Gimme Some Money/Eight Miles High/Sunny Afternoon
--From a Shell
Monday:
Work, Farmer's Market, and back to the Coronet for the the first official Neil Finn "solo" show. It wasn't only Neil, though - Elroy and Jon were back to lend a hand. Monday and Tuesday were my reasons for planning this trip in the first place. I'd seen three other Neil Finn permutations before:
Crowded House
,
Split
Enz
, and the Finn Brothers. I'd never seen Neil performing his solo material, and couldn't have been happier to hear some of my favorite songs from
Try Whistling This
and (my favorite of Neil's albums)
One All
. (Or
One Nil
, depending on where you come from.) There were indications that Neil might play another set in the Little Room after the show, but that was not in the cards for Monday or Tuesday. Someday, perhaps, I'll see such a thing.
Monday's setlist:
--Only Talking Sense
--Driving Me Mad
--Wherever You Are
--Gentle Hum
--Walking on the Spot
--Silent House
--Anytime
--Elephants [new Crowded House song]
--Last Day of June
--One Step Ahead
--Private Universe [with videos looped by Jon, including Nels Cline]
encore
--Suffer Never
--I Love You Dawn [Neil solo acoustic, request]
--The Devil You Know [Neil solo acoustic, request]
Tuesday:
Work, breakfast in a booth across from Drew Carey (Paul's second day in a row), work, Farmer's Market, drinks at the Roger Room, and back to the Coronet for the second Neil (and Elroy and Jon) show. The show was great - my favorite of the two Neil nights. They played a few improvised gems that came about when Neil accidentally discovered Jon's crazy effects board sitting on the piano. The first morphed into a surprise Jon/Elroy/Neil version of "Billie Jean." Later Neil also ad-libbed a verse of "You Sexy Thing" with Jon and Elroy contributing some backing instrumentation. Neil joked that those are the only funky songs he knows, and he's been known to play them at parties around 2:00 a.m. We heard a couple 7WC2 songs again as Lisa Germano joined the men onstage for awhile. They played the song Sharon Finn wrote with Neil, "Little By Little," and "The Cobbler," on which Elroy sings lead and plays the acoustic guitar. Neil also played a couple of songs he rarely gets to do - and they happened to be two of my three favorite songs from
One All
. "Into the Sunset" and "Turn and Run." Throughout the night Neil struggled with some chords and lyrics, and I'm sure he wasn't entirely pleased with the performance. Perhaps I'm just used to performers stumbling their way through every so often, but for me the mistakes just made the night more memorable.
Tuesday's setlist:
--Driving Me Mad
--Try Whistling This
--Message to My Girl
--Billie Jean
--improv/(Born to Be Alive?)
--Wherever You Are
--Faster Than Light
--I Feel Possessed
--Sinner
--The Cobbler
--Into the Sunset
--Turn and Run
--Little by Little
--One Step Ahead
encore
--You Sexy Thing
--She Will Have Her Way/Coming into Los Angeles
--Something So Strong [original acoustic version]
--Into Temptation
--Not the Girl You Think You Are [with Mark Hart]
Wednesday:
Home. Hold on, you mean I don't get to do the same thing every day from now on?