Mom and friend, 1956
Mulling over my next trip to California, I realized something surprising. Though our Dairy State roots stretch back for generations, my family has been sending shoots into the Golden State for nearly as long.
My grandpa's older brother, Pete, was the first to heed the Western call. He and his wife headed to Crescent City in the 1940's, and lived the rest of their lives there near the redwoods.
Uncle Pete on the right. One of my grandma's sisters with the baseball bat.
Most of my dad's siblings would grow up and leave for California as well, at least for a time. My uncle Chuck moved to San Francisco. My aunt Kathy joined him for awhile, and my cousin Michelle was born there. My aunt Judy and her husband lived in Poway for decades. My cousin John is a firefighter in San Diego. My cousin Tracy and her family live there, too. When the Air Force returned my uncle John and his wife to the U.S. from Iceland, California was the first place they were stationed.
Aunt Judy and baby Tracy at home
Grandpa and Grandma visiting San Francisco (I think?)
Toward the end of her high school career, my mom's best friend Karen moved to Canoga Park. For the next six years, until she got married, Mom spent six or seven weeks each summer visiting Karen. They went to the beach, Catalina Island, Tijuana, Disneyland, and saw shows at Whisky a Go Go. Mom spend more time in the Los Angeles of the 1960's than I've spent in any one place away from home. When I watch "Mad Men" episodes set in California, I can't help imagining Mom and her friends passing through the scenes.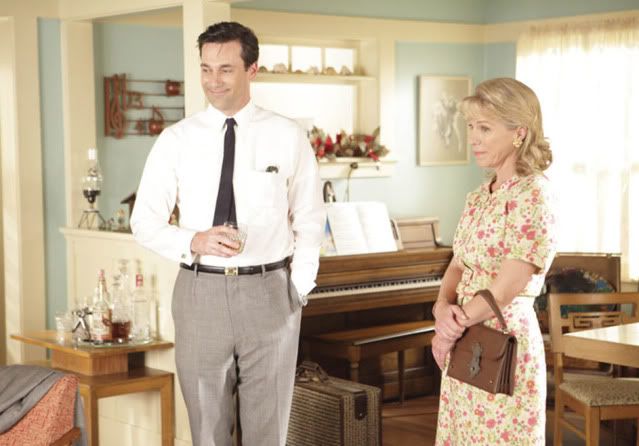 Top: Mom and Pooh, Disneyland. Bottom: Don Draper in California (photo from AMC)
When my dad joined the Marine Corps in 1960, he trained at Twenty-Nine Palms. He brought the family back in 1984, during our California vacation. Any real memories I had have long since been supplanted by a few minutes of "movie camera" footage Dad captured from our rental car: Marines marching in the distance, quietly (or so it is on the tape) chanting in their familiar cadence.
Dad, Marine Corps era
That 1984 trip was my first vacation outside Wisconsin. Dad attended a business conference in San Francisco - I recall silent film of Alcatraz from the same home movie reel - and the rest of us flew out to join him. First we stayed with Karen, who was married to an actor and living in Agoura Hills. They had a stable on their land, and their daughter - a year older than I - had an honest-to-god pony. On a swing set near the edge of the hilltop property, I felt as if I were flying out over the valley below with each upswing.
We proceeded to a hotel in Costa Mesa whose most salient feature to a four-year-old was the huge pool. Then we visited my aunt and uncle and cousins in Poway. They also had a pool, kidney-shaped, in which my sisters gave me "swimming lessons." In other words, they removed my water wings and repeatedly staged the pool equivalent of Charlie Brown and Lucy with the football.
One of my sisters, 15, by the pool. No idea how they convinced her to pose for this.
My aunt and uncle also had lemon trees, which, to a small child from Wisconsin, seemed like something that should not exist in real life. We went to the ocean, to Disneyland, to Universal Studios, to Knott's Berry Farm. Those were fun, but the kidney-shaped pool and the pampering from my supercool, sunshine-blonde, 14-year-old cousin were the best. I wanted to stay.
Me, standing in C3PO's footprints
I was not allowed to stay. But I have returned to California more times than I can count. Visiting family has turned into visiting friends, and even a few business trips of my own. I have favorite haunts in Los Angeles these days. More than any other state outside Wisconsin, California pops up in my family's history ... and in our current lives. No wonder I find myself drawn back again and again.
Across from Oakville Grocery, 2005