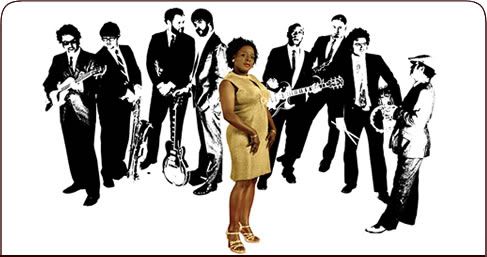 I'd known that Sharon Jones and the Dap-Kings were coming to the Barrymore for at least a month, but for some reason I resisting buying a ticket. Many of my friends have waxed poetic about her live show, I own and enjoy her latest album, and I've wanted to see her for some time ... yet I hesitated. Busy month, the holidays, other concerts, lots of work to do in the meantime. Monday morning I remembered that the show was in two days, and gave it only the most fleeting of thoughts: "Yeah, definitely not going to that."
So, of course, Monday afternoon I received an email from The Onion informing me that I'd won a pair of tickets to see Sharon Jones and the Dap-Kings. Who am I to argue with the concert gods? Nobody, that's who. Accordingly, Anya and I braved the slippery roads to the Barrymore last night. I'm very glad we did.
I now understand all of the superlatives I've heard to describe the live Sharon Jones experience. She has a great voice, the Dap-Kings are a tight and talented band, and Sharon has energy and moves that just won't quit. I enjoyed seeing her pull audience members up on stage to dance throughout the evening. I briefly wondered if she ever pulls someone up and then regrets it: think of crazy people you've encountered at concerts, and then picture the craziest ones onstage. But everyone last night seemed perfectly cool. And, at any rate, I'm pretty sure Sharon can take care of herself.
While Sharon's Tina Turner moves and Janet Jackson cover were highlights, and hearing familiar songs from
100 Days, 100 Nights
was a treat, my favorite part of the show came toward the end. Sharon called Charles Bradley (an excellent James Brown impersonator who sang a few songs during the opening set) back to the stage. She said some heartfelt words about the recent election, and then together she and Charles sang Sam Cooke's "A Change is Gonna Come."
So, thanks, Onion, for getting me downtown in the middle of an extremely busy work week. And thanks, Sharon Jones and the Dap-Kings, for making it more than worthwhile.