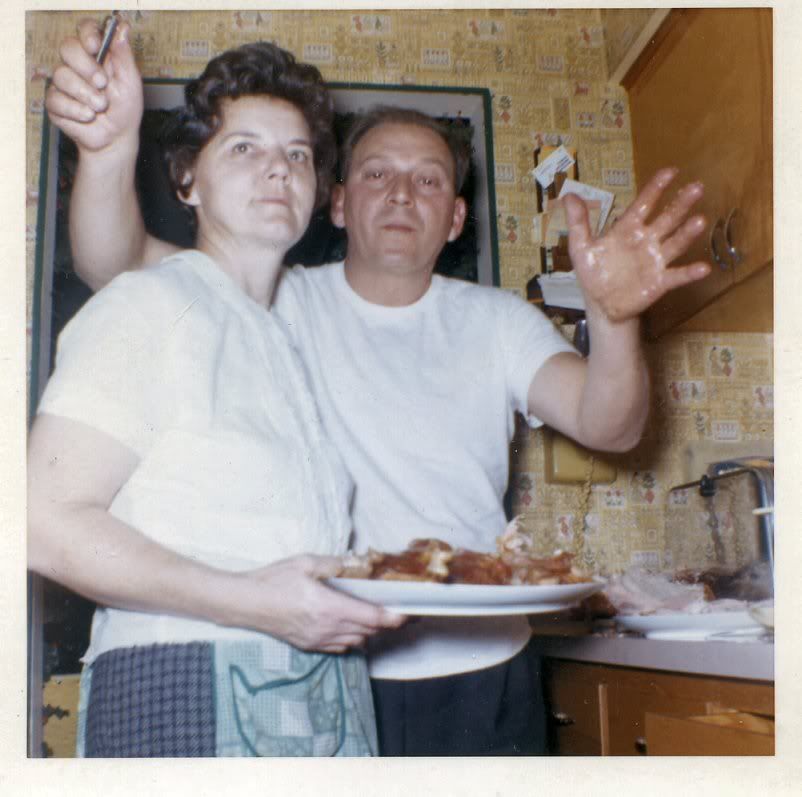 Again a feature from Dad's side of the family, here we see my grandma and grandpa in January of 1964. I love this one, because one of my most prominent memories of Grandma and Grandpa as a child was going over to their house for Sunday lunch. Grandma would make her Saltine fried chicken, or there would be Greek soup (also involving chicken), and salad, and often toast. I'm not sure why there was usually toast. But Grandma would usually burn at least a few slices, and then be "forced" to put them outside for the birds.
This particular dinner was before my time - before my sisters' time, too. My dad would have been just out of the Marine Corps, I think, at age 23. Grandma was 44, and Grandpa 46. They look much older than that to me, but because I only knew them when they
were
older, I can't really trust my judgment.
I know that kitchen so well - my sister and her family still live in the same house my grandparents did. But I don't remember the wallpaper. That is some crazy wallpaper.
Previously:
Old Photo Corner 1