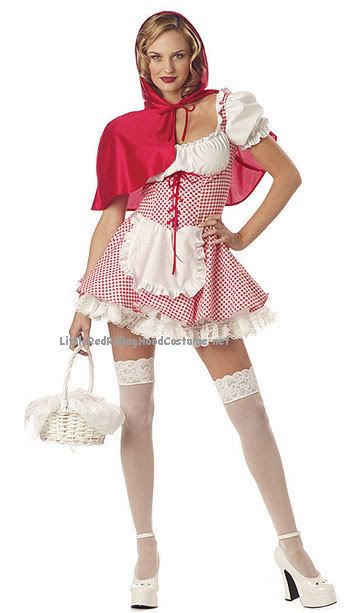 ... and what is wrong with each of them.
Pumpkin season has arrived again! With the approach of October 31st comes the increasingly pressing decision: what should you be for Halloween? Perhaps you have a good idea, but don't have time to gather the disparate elements required to pull off your look. Maybe you know exactly what you want to be, but the costume you desire is prohibitively expensive. Or it could be that you're still searching for inspiration.
My friends, I'm here to help. A few weeks ago, I went to Value Village in Racine and did your browsing for you. All of the costumes listed below are actual items that Value Village had in stock. At very reasonable prices, I might add. Of course, some of the costumes have
slight
condition issues, but rest assured: all of these have been helpfully noted by Value Village employees and are displayed prominently. Just take your pick from the panoply of choices:
Costume
: 3-piece CSI Costume
Issues
: "missing CSI badge"
[but other than that, you can totally tell it's a CSI costume]

Costume
: Spider Fairy
Issues
: "no wings"
[so... just a spider, then]

Costume
: Mayhem Mansion
Issues
: "spiders falling off hat"
[Mommy, this year for Halloween I want to dress up as a big, chaotic building!]

Costume
: Killer Bee
Issues
: "no bra top inside"
[but is there a bra top outside?]

Costume
: Corrupt Cop
Issues
: "torso is defective"
[I suppose that would embitter one]

Costume
: Border Babe
Issues
: "one binoculars missing"
[good thing it's just the one binoculars]

Costume
: Juicy Burger Babe
Issues
: "badge missing"
[??]

Costume
: Dream Girl
Issues
: "missing test tubes, shot glasses, star came unglued"
[???]

Costume
: Vampire Vixen
Issues
: "gloves are both left arms, customer says it was also sewn crappy"
[maybe it was sewn by someone with two left arms]

Costume
: Sexy Chef (Male)
Issues
: "buttons fell off and broken"
[clearly the costume rendered the chef too sexy to resist]

Costume
: Little Red Riding Hood
Issues
: "seam is ripped on right side, stinks really bad"
[okay, seriously?]